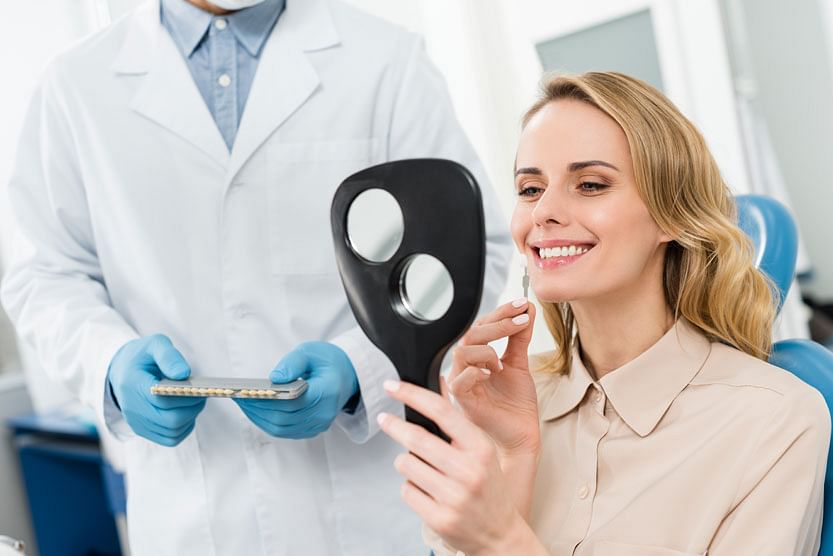 Dental Implants Dallas
Dallas Dental Implants are a particular form of dental implant that replaces one implant per tooth with four implants. Patients who miss most of their teeth and want a cost-effective and less surgical way to restore their complete, healthy smile might consider.
Dental implants are a popular choice because they provide a more permanent solution to missing teeth than typical dental bridges, implants, or dentures while being less invasive.
We're also proud to confirm that we provide you with the most cutting-edge dental technology to ensure that you get the long-term results you deserve. If you'd like to learn more about the high-quality services we provide, or if you have any questions about whether Dental Implants are correct for you, don't hesitate to contact us.
Patients who unfortunately have already lost most of their natural teeth and would prefer a more permanent treatment than dentures might consider Dental Implants. You can never be too old for Dental Implants, but you can be too young because the face and dental bones are growing in the early teen years.
Following your Dental Implants, you will experience a variety of immediate and long-term benefits, including the following:
When compared to individual implants, this procedure is much less invasive.
Budget-friendly
Faster outcomes and a shorter recovery time
Dentures cause minor discomfort and require less upkeep.
When opposed to cumbersome dentures, it's easier to communicate.
Reduces the chance of needing a bone graft
Maintains the integrity of the bone structure by feeling and functioning like natural teeth.
Maintains the health of neighboring teeth
Bite forces are distributed evenly.
Prevents further bone loss, which might make you look older.
You will need to schedule an initial consultation to determine if Dental Implants is right for you. During this time, we will examine the overall health of your teeth, review your medical history, take scans and x-rays, and determine which treatment options are best suited to your unique needs. Your periodontist will then evaluate your jawbone to confirm enough bone to support an implant.
Suppose Dental Implants are considered the best treatment choice for you. In that case, Your dentist will place the implants following the strategy tailored to your personal needs to maximize denture support. You will be given a local anesthetic before the Implants are placed. 
Depending on the severity of your condition and your overall sensitivity, the type of anesthetic used may differ. If necessary, any diseased or loose teeth will be extracted after you have been thoroughly numbed. Temporary crowns are fixed to the implants which will serve as a transitional prosthetic while the patient heals. After about 3-6 months of healing, you will return to the office to have your permanent teeth inserted. After completing this process, you may start enjoying your bright, fresh, healthy smile!