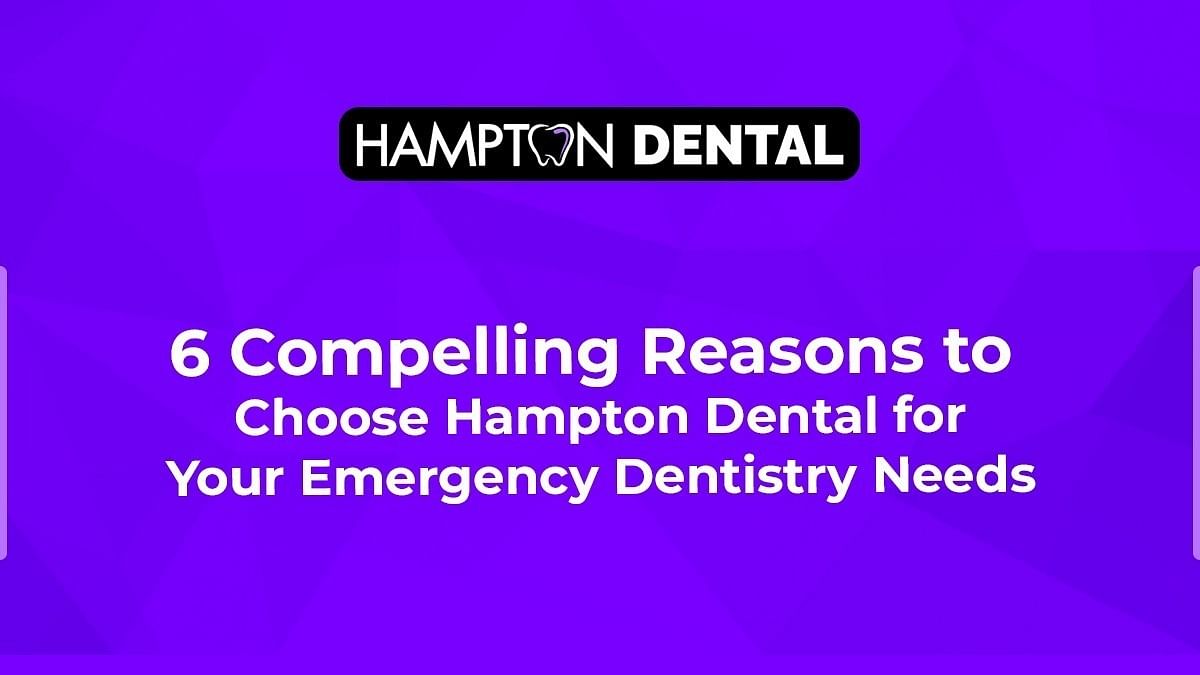 When it comes to your dental health, emergencies can strike at any moment, causing discomfort, pain, and anxiety. That's why having a trusted emergency dentist by your side is crucial. At Hampton Dental, we understand the urgency of dental crises, and we're here to provide you with top-notch care when you need it the most. In this article, we'll explore six compelling reasons why you should choose Hampton Dental for your emergency dentistry needs.
1. Prompt and Accessible Care
When a dental emergency strikes, time is of the essence. At Hampton Dental, we prioritize your dental health and well-being by offering prompt and accessible care. Our committed team of dental experts is ready to respond to your dental emergencies promptly, guaranteeing that you get the care you require precisely when you require it. We understand that pain and discomfort don't adhere to a schedule, and neither do we.
2. Experienced and Skilled Dentists
Quality care starts with qualified professionals. Our team of experienced and skilled dentists is well-equipped to handle various dental emergencies. Whether you're experiencing severe toothaches, a knocked-out tooth, or a dental infection, our dentists have the expertise to provide effective solutions. Rest assured, you're in capable hands at Hampton Dental.
3. State-of-the-Art Facilities
We believe in offering nothing but the best. Our state-of-the-art facilities are equipped with advanced dental technology to ensure accurate diagnostics and efficient treatment. We invest in the latest equipment to provide you with the highest level of care, so you can regain your oral health and peace of mind swiftly.
4. Comprehensive Emergency Services
No dental emergency is too complex for us to handle. Hampton Dental offers a comprehensive range of emergency dental care. From root canals to dental extractions, we can address a multitude of dental issues under one roof. Our commitment to comprehensive care means you won't have to go elsewhere for specialized treatments.
5. Compassionate and Caring Approach
We understand that dental emergencies can be stressful. Our compassionate and caring approach sets us apart. We strive to make your visit as comfortable as possible, alleviating your pain and addressing your concerns with empathy. At Hampton Dental, we're not just treating teeth; we're caring for people.
6. Transparent and Affordable Pricing
We believe quality dental care should be accessible to all. Our pricing is transparent, and we work with various insurance providers to make emergency dental services affordable. You can trust that you'll receive top-quality care without breaking the bank.
In conclusion, when it comes to emergency dentistry, Hampton Dental stands out as a reliable and compassionate choice. With our prompt and accessible care, experienced dentists, state-of-the-art facilities, comprehensive services, compassionate approach, and transparent pricing, we're committed to helping you regain your oral health and peace of mind during dental emergencies. Choose Hampton Dental and experience the difference in emergency dentistry today. Your smile deserves the best care, and that's exactly what we provide.